​Read Book 3, Chapter 1, HARVEST TIME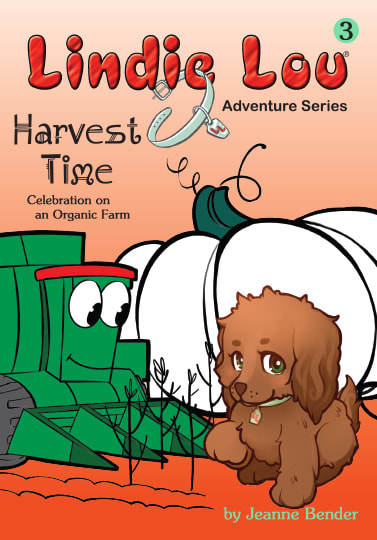 CHAPTER 1
A New Adventure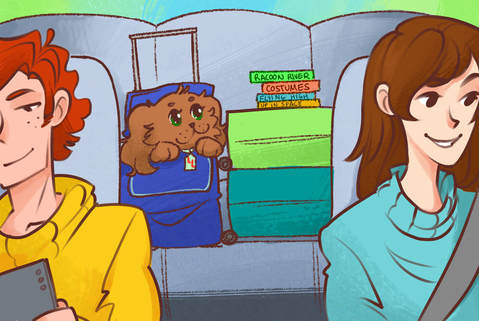 Lindie Lou was sitting in the back seat of Bryan and Kate's car. Kate pushed a button and the car turned on. Bryan sat next to her. He was looking at a map.​
---
Lindie Lou loved Kate and Bryan. She was happy living in Seattle and was glad they were her owners. They were very caring and made her feel safe. The suitcases were in the back of the car. Lindie Lou didn't know where they were going, but she knew they were on another adventure.
"We should be at the airport in about forty-five minutes," said Kate. "I'd like to stop at the library. I have some books to drop off." "Okay," replied Bryan.
Kate's little green car drove away from their house on the lake. Lindie Lou looked out the window. She saw four ducks floating on the water behind their house.
​ The car drove across a high bridge. Below them was the city of Seattle.
---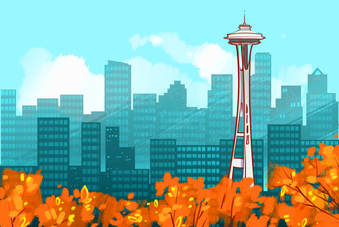 I can see the Space Needle, thought Lindie Lou. That's where Kate took me up in space. It looks really amazing from here.
The car took the next exit and drove through downtown Seattle. Lindie Lou looked out the front window. Down the street was a very strange giant geometric building.


---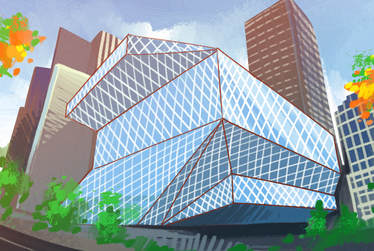 "We're here," announced Kate. She jumped out of the car with the pile of books under her arm. Kate ran up to a book drop-off area on the outside of the building.
​ "Hello," said a recording. It was coming from a loudspeaker in the wall. "Please open the door and place your books on the belt."
​ Kate did as she was told. Lindie Lou watched the books move up the belt and drop into a large box hanging from the ceiling.
​Wow,​ thought Lindie Lou. ​What a cool system.​​ She looked up at the building. This amazing looking building must be the Seattle Public Library.
Kate jumped back into the car.
​ "Okay, errand complete." she said.
​ "On to the airport," announced Bryan.
---
Chapter 2: GUESS WHO ELSE IS COMING?
Chapter 3: WHERE EVERYTHING GROWS
Chapter 4: NEVER A DULL MOO-MENT
Chapter 5: AS FAR AS YOU CAN SEE
Chapter 6: WHAT ARE YOU DOING HERE?
Chapter 7: THE HAY LOFT
Chapter 8: LOOK WHO'S HERE
Chapter 9: THE CORN MAZE
Chapter 10: THE MAZE GAME
Chapter 11: A-MAZE-ING
Chapter 12: AN ORGANIC FARM
Chapter 13: WHAT'S IN HERE?
Chapter 14: I SEE YOU BROUGHT SOME FRIENDS
Chapter 15: PUMPKIN CARVING
Chapter 16: WHAT AM I GOING TO DO?
Chapter 17: THE HARVEST DAY PARADE
​Chapter 18: THE HARVEST PARTY
Chapter 19: AND THE WINNERS ARE
Chapter 20: MOTHER HARVEST
​Chapter 21: I DON'T WANT TO LEAVE
Lindie Lou Song
​ Fun Facts
Calendar of Events
Quick Quiz
Copyright © by Jeanne Bender with illustrations by Kate Willows.
All rights reserved, including the right to reproduce this book or portions thereof in any form.