** AUTHOR **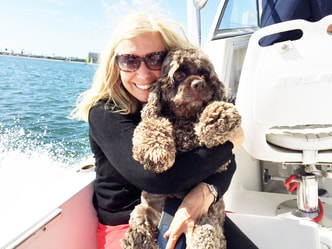 Education

Bender's writing talent was discovered early on when she received high praise for her poetry and early compositions. Bender continued to write, sharing her travel stories with friends and family. They encouraged her to put her adventures in book format. Bender hired a creative writing professor in Seattle, WA to help improve her writing skills. She continued her education in the UK at Oxford University. The first book in the Lindie Lou Adventure Series took three and a half years to write.

Bender presently lives in Seattle, WA in the summer and San Diego, CA in the winter.
---
​Growing Up

Bender grew up in Sheboygan, Wisconsin. She was the second oldest of eight children. Early on, she realized she loved an adventure.

Bender, at the age of ten, was given the opportunity to hatc h six gosling eggs in her famiily's garage. They hatched successfully and followed Bender down the city streets. She never gave up her love for animals. She had several pets during her childhood years.

After high school, Bender flew to Long Beach, CA to attend college. She was elected student body president and graduated with a degree in fashion merchandising and a 3.8 GPA.

A few years later, Bender became a real estate broker in Pasadena, CA. After only three months she was awarded the top sales award for the entire city. Bender decided to open her own Real Estate company at the age of 25. The same year she was elected as a Director of the Pasadena Board of Realtors.

​Always looking for a challenge, Bender moved to Beverly Hills, CA. Within nine months, she was invited into the Leading Edge Society of Rodeo Realty, a division of Merrill Lynch Realty.
​
​Becoming a Writer

Bender's education continued when she studied with a creative writing professor in Seattle, WA and continued her education in the UK at Oxford University.

One day Bender was on the internet looking for a puppy. She came across the cutest cocker spaniel she had ever seen. Bender called the owner and adopted the puppy. Her name was Lindie Lou. Bender met her new puppy at the Seattle airport. Lindie Lou flew from St. Louis to meet her. Bender fell in love with Lindie Lou the second she saw her cute face and big paws. Soon after they met, Bender decided to write stories about her life with Lindie Lou.

​The next step

Bender is happiest when she's writing. Once she decided to write the Lindie Lou Adventure Series, she knew she had to find an editor, graphic designer and an illustrator. She asked editor, Nancy Kiefer for help. Kiefer agreed to edit the Lindie Lou Adventure Series books. Illustrator, Kate Willows and graphic designer, Susan Harring also joined "Team Lindie Lou."

GETTING PUBLISHED

​​Bender and Kiefer spent many hours writing the Lindie Lou Adventure Series. The first book took three and a half years to finish. The second and third book took eight months each. They spent a lot of time working together long distance. Bender lives on the west coast (Seattle, Washington) and Kiefer lives in the Midwest (New London, Wisconsin.)

Pina Publishing in Seattle, WA published all of the Lindie Lou books.

Books:

Lindie Lou Adventures,

​Book 1, FYING HIGH, Flying on an Airplane for the very first time... was published October, 2015.

Book 2, UP IN SPACE, An adventure at the Space Needle... was published eight months later.

​Book 3, ​HARVEST TIME, Celebration on an organic farm... was published in 2017.

​Book 4, BIG CITY MAGIC, being written now.

Each book takes place in a different place and a different month.

Book 1... in August, Book 2... in September, Book 3... in October, etc.

Each book ends with clues to where Lindie Lou goes next.

Author Jeanne Bender travels to schools, libraries, book stores and city events all over the country.

​She teaches children the process of writing a book, how the Lindie Lou Adventure Series began, character development, and explains life lessons learned in each book.

​For more information go to lindielou.com. Click on our Visits/Resources tab... and... Our Team/Contact Us tab.





---